If you're looking at different franchise concepts and trying to decide which option is right for you, smoothie and juice bar franchises should be at the top of your list!
Wondering what makes smoothie and juice bar franchise opportunities a top consideration? Let's take a look at the benefits these beverage concepts can offer to franchise owners:
Smoothies Are a Recipe for Success
One of the greatest advantages of starting a smoothie or juice bar franchise is that these concepts embrace two strong qualities: health and convenience.
Featuring this rare combination, smoothies and juice bars stand out as more consumers are seeking healthier options while on the go.
The Smoothie and Juice Industry Is More Popular Than Ever
Throughout the years, smoothies and blended juices have maintained a strong reputation as part of a healthy lifestyle. The global juice and smoothie segment is estimated to reach a revenue of $48.3B in 2023 and is expected to grow annually by 4.4% through 2027.
Whether for improving overall health, enjoying a post-workout drink, or fueling fruit and vegetable intake, smoothies have remained a popular product for consumers and a sought-after business opportunity.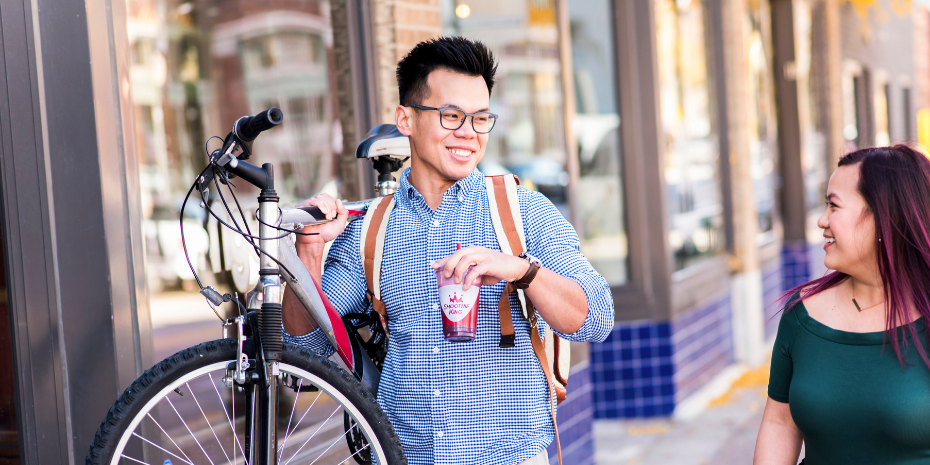 Smoothies Fuel Healthy and Active Lifestyles
Anyone can make a smoothie – we do it best. When you partner with Smoothie King, we'll show you our proprietary recipes and high-quality ingredients that go into our purposeful smoothie blends.
Each of our smoothies is designed with a balanced blend of ingredients that helps support our customers' health and wellness goals while our franchise owners benefit from a proven business model.
You'll offer your customers so much more than just fruit in a blender; you'll be able to tailor our product to their specific needs, goals, and ambitions, fueling their healthy and active lifestyles.
Franchising Comes with Many Advantages
Rather than go it alone, franchising offers you the opportunity to combine the growing health and wellness market with industry expertise. As a Smoothie King franchisee, you'll gain valuable advantages from your franchisor, including a turnkey investment package.
Your investment includes world-class support and training, product development, real estate and construction assistance, marketing programs, and innovative technology designed to make operations simpler and more efficient.
We've Been Making Smoothies Since '73
Smoothie King is a well-known franchise industry leader. As the first smoothie franchise in the US, we've become one of the most respected and fastest-growing brands, having opened over 1,350 locations worldwide.
With our leadership, culture, and commitment to franchise ownership success, franchisees deliver incredible guest experiences.
We're Future-Focused
Our research and development team keeps our menus fresh by creating delicious and innovative offerings, balancing complimentary fruits and vegetables with purposeful ingredients like fiber, vitamins, minerals, and protein.
We go beyond smoothies and also offer our customers a number of retail products, including sports beverages, energy bars, vitamin supplements, and more.
We cater to industry and consumer trends, allowing our franchise owners to stay up-to-date on the latest developments. We've successfully launched many new products over the years, including smoothie bowls, and are focused on maintaining our momentum to fuel our franchisees' success by improving performance and strengthening loyal customer bases.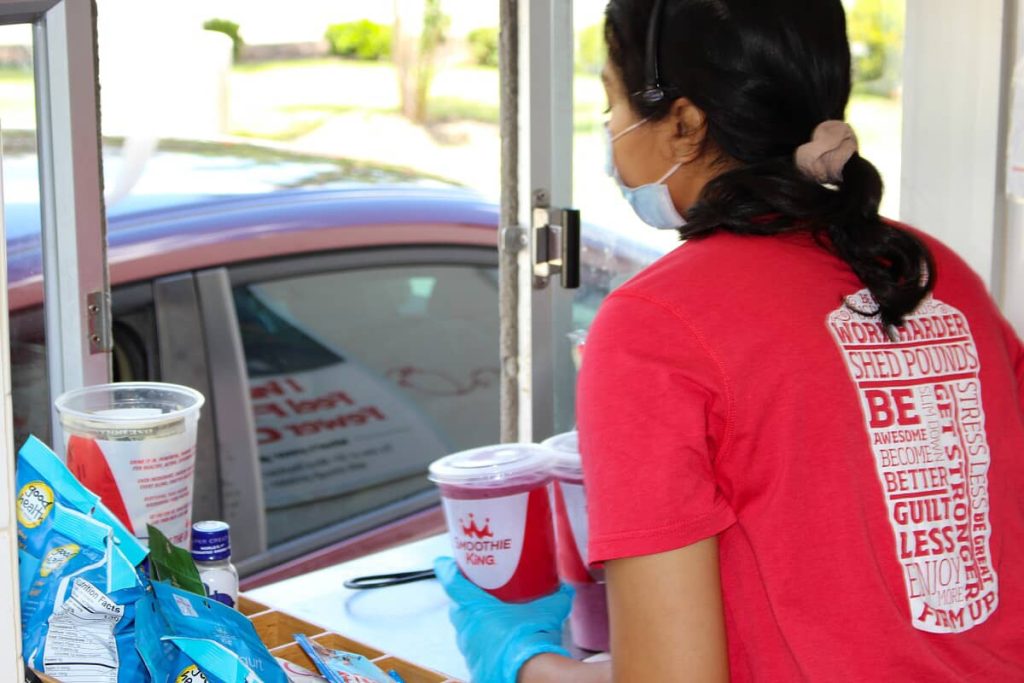 We Know the Smoothie Franchise Business
As a Smoothie King franchisee, you'll benefit from our valuable experience when it comes to running your smoothie business. After all, we've been in business for over 50 years – we must be doing something right!
With Smoothie King, you can rest assured that you'll have our decades of experience and strong leadership to support you every step of the way on your journey to business ownership. We've thought of virtually every aspect of the business, from guest loyalty to multiple floor plan options, to set our franchisees up for success.
For example, we've designed our opportunity to be effective when it comes to resources. Our stores produce minimal waste, and our offerings require no cooking. With a lower startup cost, you'll save on the cost of goods, labor, and equipment.
We're a Business Franchisees Can Feel Good About
Everyone wants to feel good about what they're doing. At the end of the day, having an enjoyable, rewarding experience makes working feel less like "work."
When you franchise with Smoothie King, you'll spend your days helping customers by providing choices for their healthy and active lifestyles. You'll be serving nutritious beverages and smiles with every delicious smoothie while mentoring your team members by teaching them responsibility and the value of living a healthy lifestyle.
Now is the perfect time to start building a better future for yourself and your family through a smoothie franchise opportunity from Smoothie King.
Contact us today to learn more about owning a smoothie franchise with Smoothie King.