The ability to give back to the community is among the top priorities for many small-business owners. And while many intend to make charity work a significant aspect of their business, it can be difficult to maintain outreach goals if business owners don't put forth passion and effort.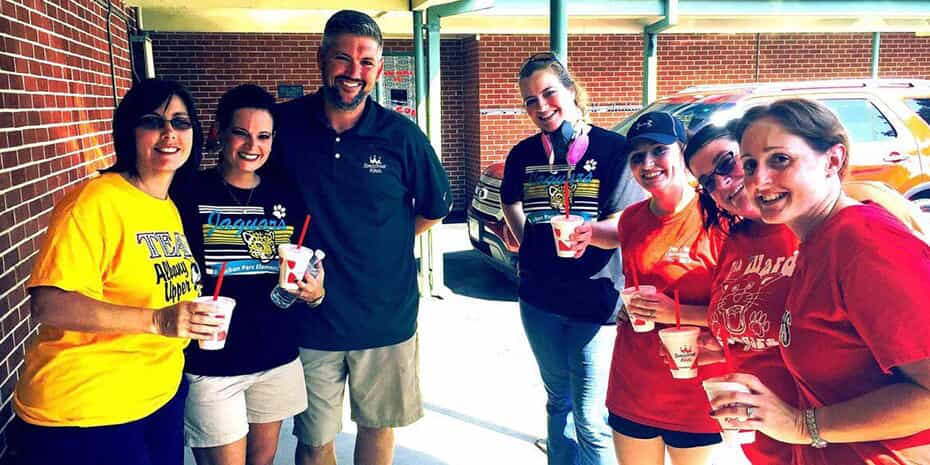 Fundraising for Education through Business
Smoothie King franchisee Roger Wilder has plenty on his plate business-wise, having run 12 Smoothie King locations for more than 16 years. But, he has always made time to give back to his community and has partnered with dozens of area schools over the years to support local children's education.
"To me, fundraising efforts with schools are much more of a partnership than a business deal," said Wilder. "It's for the students and the schools themselves, and we love doing it."
Wilder said that, in the past, local schools have needed to raise money for anything from field trips to special equipment or extra desks. He has had a tremendous impact on school fundraising efforts. Wilder has given away thousands of smoothies for local schools to sell at open houses, Family Literacy Nights or other events to raise money. Wilder has helped raise over $2 million for local schools so far and says he already has over 20 partnership events picked out for the upcoming year.
Back-to-school season presents a great opportunity for Smoothie King franchisees to get involved with school fundraising efforts. Wilder says the most important thing is to get creative with it – you can help your local schools by donating your time or smoothies or sponsoring a sports team or school band.
"Schools can use our product in a way that will benefit the students," said Wilder. "And the smoothies are a more nutritious option than some snacks, so administrators welcome it."
Smoothie King Franchisee Helping to Rebuild and Refresh
When Livingston Parish, Louisiana – where Wilder and his family live – was affected by a devastating flood, Wilder had to temporarily shut down one of his Smoothie King franchises. But instead of focusing on his own situation, he was more concerned with how the natural disaster affected local schools.
"Some of the schools were just destroyed," said Wilder. "So many people were working to rebuild, and we just wanted to help in any way we could. So, we decided we could come and pass out smoothies to everyone who was working so hard to make sure the schools could open again."
Wilder, his children and some of his Smoothie King team members visited different areas to do what they could to help. Over a couple of weeks, they passed out over 20,000 smoothies to people who were helping in the clean-up efforts.
"As a business, it's really important to give back to your community," said Wilder. "These are people that are frequenting your stores and buying your product – we like to show our appreciation for that."
Whether you want to donate your smoothies, time or revenue, there are so many different ways you can help support your local education with Smoothie King. To learn more about becoming a Smoothie King franchisee and getting involved in the community, download our Franchise Kit.