When a company is 45 years old, its evolution can be divided into versions:
Smoothie King 1.0 existed between 1973, when Steve Kuhnau founded the brand in New Orleans, and 2012, when then master franchisee Wan Kim became CEO.
From 2013 through 2017, when Smoothie King experienced tremendous growth, rocketing past 900 stores, is Smoothie King 2.0
Smoothie King 3.0 begins now, in 2018, in Dallas, where Smoothie King has relocated its headquarters from New Orleans. To accommodate the continuing growth of the brand, Smoothie King needs to expand its talent pool, which will be accomplished easier in the Dallas metropolitan area. However, the move represents more than just growth – it represents a strengthening of commitment to the brand vision.
Dallas has Expanding Talent Pool
Dallas is more than three times the size of New Orleans in terms of population, according to data from the U.S. Census Bureau. Dallas has a population of 1.318 million people and growing, while New Orleans has only 391,495 people. The economy and culture in Dallas has been attracting businesses – including many food and beverage companies – and talented people from all over the country for years. It boasts a favorable jobs climate, housing is relatively affordable, taxes are lower and regulations are more lax than in other parts of the United States. The city is home to three professional sports teams – the Cowboys (football), the Mavericks (basketball) and the Stars (hockey) – historic museums and a vibrant music scene. Dallas, the third largest city in Texas (and ninth in the country), is just 45 minutes from Fort Worth, the fifth largest city in the state, making for an easy commute between the two.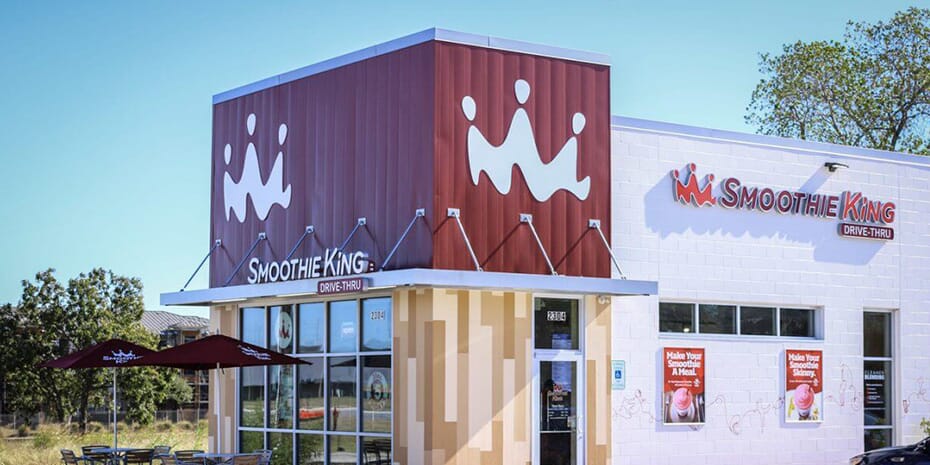 Photo originally appeared on LoopNet
As Smoothie King continues to grow throughout the United States and the world, airports play an increasingly important role. Dallas has two major airports, which accommodate a large number of domestic and international flights. Flying in and out of Dallas will be easier than it was in New Orleans.
"We are calling 2018 to 2022 'Smoothie King 3.0,'" Wan said. "When we defined 3.0 and what we need to do, we recognized we need to bring in talented people. Without those people, it's going to be difficult for us to achieve."
Location Reflects Smoothie King's Values
The Smoothie King headquarters in Dallas is appropriately situated for a brand whose vision statement is "to be an integral part of every health and fitness journey." Directly outside is a small lake with a running/bicycle path around it. A shower area in the office was constructed, too.
Employees can now conveniently take a break from work by running, walking or cycling, come back to the office and take a shower, and return to work. They are also allowed to wear athletic gear in the office.
Smoothie King also upgraded its desks with the vision in mind. Staff now have standing desks which adjust to each individual's settings automatically. Standing desks have been reported as having health benefits that include helping to reduce the risks of obesity, Type 2 diabetes, cardiovascular disease, cancer and other health issues.
"People are excited to be here," Wan said. "They seem to really love the new office."
The move to this location, change in the policy regarding office attire and upgraded work stations was designed to improve the work environment and keep the focus of corporate employees on the Smoothie King purpose.
Remaining True to the Vision
The ultimate goal is to attract talented workers who genuinely believe in the Smoothie King vision.
"We want to hire people who understand our mission and want to be a part of it," Wan said. "The new office accommodates that. When people see it and our employees biking or jogging and working at desks that promote health, they understand we mean what we say."
If you're interested in learning more about a franchise brand that lives its vision, download the Smoothie King Franchise Kit.