Small businesses make up two-thirds of net new jobs in the United States and are some of the most important drivers of U.S. innovation. They are an essential component of our economy, accounting for 44 percent of the national economic activity.
As a business owner, you not only have an opportunity to boost the local economy, but also give back and become a community ambassador.
As community ambassadors for Smoothie King, our franchisees tap into people's passion for living a healthy and active lifestyle.
Here are some Smoothie King franchisees that have made it part of their goal to give back and fuel their community, whether it's through sponsoring children's education or local sports teams.
A Passion for Public Health and Wellbeing
Nancy and Michael Martin joined the Smoothie King franchise system through the First Responders Initiative in 2018 and operate their location out of Lexington, South Carolina.
The First Responders Initiative was created due to the qualities and experience exhibited by millions of first responders, which align with what we look for in our franchisees, including a mindset oriented around community service, exceptional leadership qualities and a passion for public health and wellbeing. We help first responders attain their entrepreneurial dreams by offering those with 10 completed years of service eligible for a 20 percent discount on the initial franchise fee.
As one of the first franchisees in the market, Nancy knew immediately she wanted to place an emphasis on building relationships within her community.
Their location is in a small shopping center and is surrounded by on-the-go and health-oriented businesses along with fitness centers and daycare centers. Nancy jumped right into connecting with her fellow business owners and visited local businesses to hand out smoothie samples, as well as attend business grand openings and local sporting events.
As a thank-you to her community, Nancy has sponsored high school sports teams and hands out cards offering a discount on smoothie purchases to student-athletes. She also shows her appreciation for fellow first responders by offering them a 20 percent discount and participates in Serve & Connect, a local nonprofit that works to bring law enforcement and community members together. Thanks to Nancy and Michael, their local community has access to the delicious path towards an active and healthy lifestyle.
Helping Local Schools and Their Students Thrive
Roger Wilder, who runs 12 Smoothie King locations, has been making a difference in the lives of local students along with being a community staple in the Livingston Parish, Louis.-area for more than 16 years.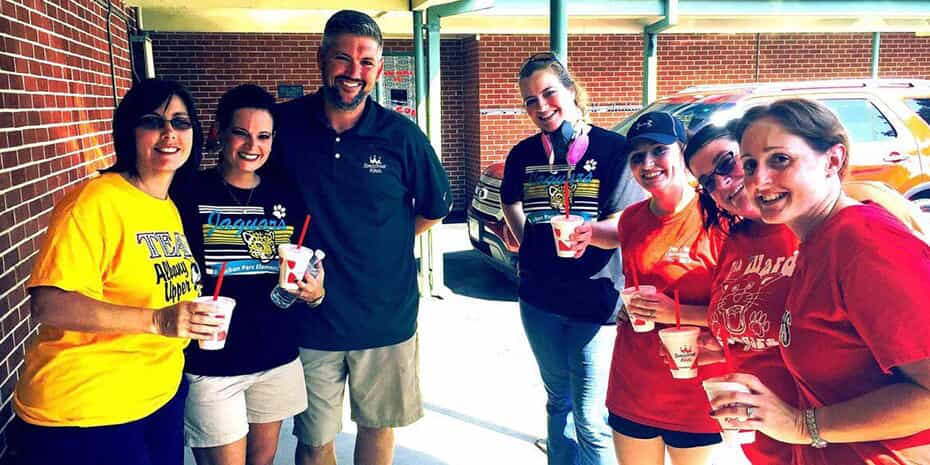 Roger has partnered with dozens of area schools to support children's education and has had a massive, positive impact on school fundraising.
To Roger, the most important thing is to get creative with how you support your local community – help local schools by donating your time or smoothies, sponsoring a sports team or school band – and take advantage of back-to-school season.
Roger has given away thousands of smoothies for students to sell at open houses, Family Literacy Nights or other school-related events to raise money. In 2017 alone, he participated in an event that helped raise over $2 million for local schools.
Promoting Our Brand Values
Fern Dawkins took her first sip of a Smoothie King smoothie 17 years ago and hasn't looked back since. While Fern has a degree in health law, she was driven towards franchising and is now a multi-unit owner in the Houston market.
Although Fern didn't have any prior experience in food service or owning a business, she has worked hard to help raise awareness of the qualities that make us an ideal franchise to potential candidates.
Thanks to our strong company mission, our franchisees know exactly why their work matters and can build more fulfilling careers. Our products are each crafted with a specific purpose, driving repeat business when our guests build purpose blends into their daily or weekly routines while also supporting our brand by letting our guests know exactly what goes into their smoothie and why it's on the menu.
We are constantly reevaluating consumer needs and how we can meet and exceed them while staying true to what we stand for – making us an innovative franchise that works towards serving the needs of consumers and our franchisees.
Partnering with Organizations That Better Community Members
Paul McCulloch is a multi-unit franchisee in the greater Nashville area, and with 19 Smoothie King locations under his belt, he is the largest Smoothie King operator in the market. In 2017, we launched our sponsorship with the Challenged Athletes Foundation (CAF), and Paul immediately jumped at the opportunity to serve on our franchisee advisory council and work with the CAF.
We partnered with the CAF to raise awareness and help individuals with physical challenges stay active by funding grants for adaptive sports equipment and travel, training and competition expenses not normally covered by insurance.
Not only did Paul decide to serve on our franchisee advisory council, but his stores were also the first Smoothie King locations to award equipment to athletes in the area – making him a cheerleader for a healthy and active lifestyle that is accessible for all.
Get Started as a Community Ambassador in Your Market
Our franchisees are heavily involved in the growth of their community and are always looking to give back to the guests that have supported them and fostered long-lasting relationships.
Looking to join a franchise that supports giving back to the community? Download our franchise kit to get started today!