Some restaurant franchises have sizable market share and widespread brand recognition. Others boast fast expansion and strong momentum. Smoothie King has it all.
A new analysis by Nation's Restaurant News named Smoothie King one of the top ten chains in the unit-growth sweet spot, or chains with large systems that still achieve rapid growth.
Generally, established brands with robust systems post lower unit-growth rates, while emerging brands display more striking year-over-year growth. But with strong franchise development programs and cost-effective stores, brands like Smoothie King can add successful locations at an impressive rate. For instance, Smoothie King grew 12.75 percent during the fiscal year ending on December 1, 2016, according to the NRN report.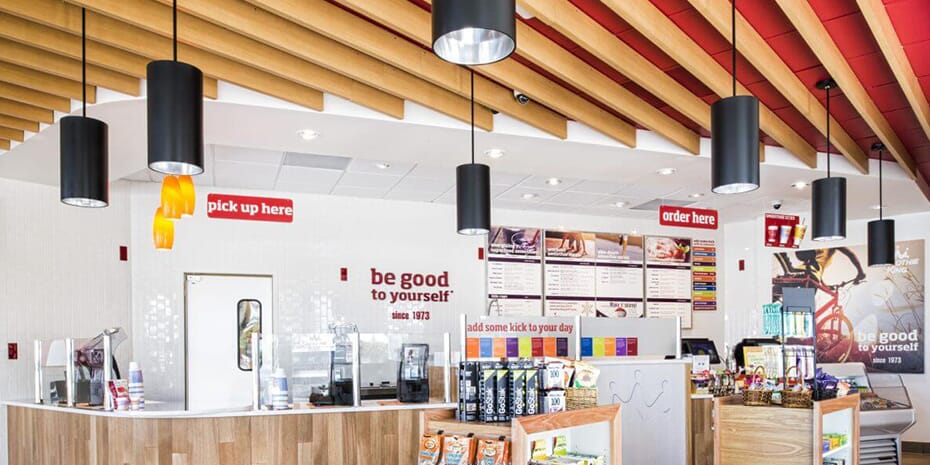 The rankings included Smoothie King alongside behemoth brands like Starbucks and Chipotle. This comes after a record-breaking year of growth for Smoothie King, with 96 new domestic franchise stores across 28 states and 147 signed franchise agreements. Two-thirds of those agreements were with existing franchisees, demonstrating franchisees' satisfaction with the brand and willingness to re-invest.
A New Vision
Smoothie King's fast expansion is propelled by its purpose-driven brand. The company has a vision to become an integral part of every health and fitness journey, so it tailored its products to fit guests' purpose –or their reason for visiting the store. Whether guests want to tone up, slim down, feel better or treat themselves, they'll find a smoothie suited to that purpose.
This unique approach drives sales growth for franchisees. As guests build smoothies into their health and wellness routines, store owners benefit from repeat business. Meanwhile, protein blends and meal replacement smoothies bring in new demographics and widen franchisees' guest bases.
Smoothie King also caters to health-conscious consumers through its Cleaner Blending Initiative. By the end of 2018, Smoothie King will remove all artificial flavors, artificial colors, artificial preservatives, added hormones and GMO fruits and veggies from its smoothies. The products are already free of high fructose corn syrup, trans fat, hydrogenated oil and gluten. Additionally, stores will offer more than 50 All Purpose Blends with no added sugar.
With a revitalized brand, a purpose-driven menu and a bold vision, Smoothie King is poised to join the ranks of household-name brands that innovate their way to the top.
A Bright Future
Smoothie King CEO Wan Kim transitioned from master franchisee to chief executive in 2012, with the goal of growing the brand into a global market leader. Under his leadership, Smoothie King added about 300 locations across the globe in four years. And, thanks to a network of hardworking franchise partners, the company's growth is far from over.
Smoothie King is always searching for franchise owners who share the company's passion for helping guests achieve their wellness goals. Smoothie King store owners run their own businesses and enjoy the flexibility and freedom of being their own bosses. Most importantly, they make a real difference in their communities.
To learn more about Smoothie King's franchise opportunities, download a free Smoothie King Franchise Kit.