In 2017, Erica Davis was working as a middle school teacher, covering subjects that ranged from language arts to social studies, while her husband Nathan worked in the medical sales business.
Today, they are getting ready to open their third Smoothie King location in Mount Vernon, Illinois—not far from where they both grew up.
We sat down with Nathan and Erica to find out more about how they pursued their entrepreneurial dreams to become successful multi-unit Smoothie King franchisees:
When did you open your Smoothie King locations?
Nathan: We opened our first Smoothie King in Alton, IL in September of 2019 and our second one in Collinsville in October of 2020.
How did you first hear about the Smoothie King brand?
Erica: I was introduced by a fellow teacher of mine. We started picking up smoothies for $5 Fridays together before work, and we'd look forward to it all week.
Nathan: For me, since I was on the road all the time for work, I would always be seeking healthier options for pit stops. Erica actually introduced me to Smoothie King in Columbia, Missouri, and I'd stop there rather than getting fast food.
When and why did you decide to become Smoothie King franchisees?
Nathan: We are both passionate about health and wellness. We got to the point when we were going to grab our smoothies every week, and when we moved back to the St. Louis area, we had our second baby on the way. We'd always wanted to open a business, and it just felt like the right time. Smoothie King had become a large part of our lives, and we had that 'aha!' moment. If we could be a part of it, we wanted to be.
Why did you choose Smoothie King over any other brand?
Nathan: I think we were really sold on it when we attended Discovery Day. I remember them pointing out certain smoothies, like the Daily Warrior. It's one that really hit close to home for me because it was created for people who really need autoimmune support, like people with cancer. My grandmother had cancer, so it's something that really stuck with me and made me want to invest in the brand even more.
What stuck out to you the most about the Smoothie King corporate team?
Nathan: We could definitely tell it had a tight-knit feeling. Everyone at this brand has such compassion and drive. You know everybody's really in it with their heart and soul. As franchisees, we receive so much support. Plus, getting to hear (CEO) Wan Kim speak at Discovery Day was icing on the cake. He is just great, and we were so excited to begin our journey with Smoothie King.
How have you been able to build a strong team?
Erica: I'm always out and about at our stores, working closely with the employees and overseeing operations. Being there helps to maintain open communication and build our relationship with the team as well as their relationships with one another. Smoothie King as an organization has a very family-oriented feel to it, and we make sure to stay true to that with our team. Being able to run events together helps, too. I remember prior to COVID, we had a table set up at a 5K.
What has been the most rewarding part of owning your business?
Erica: For me, the most rewarding part of it all has been the full-circle opportunity to give back to our local school and teachers. We've hosted several 'dine and donate' nights for our son's school and being able to give back to our community has definitely been one of our favorite parts.
Nathan: The best part of all of this has been being a part of such an incredible brand and watching our dreams become our reality. The fact that we help to inspire a healthy and active lifestyle while promoting a great product, adding jobs to the community, and seeing our smiling guests… It makes it all worth it.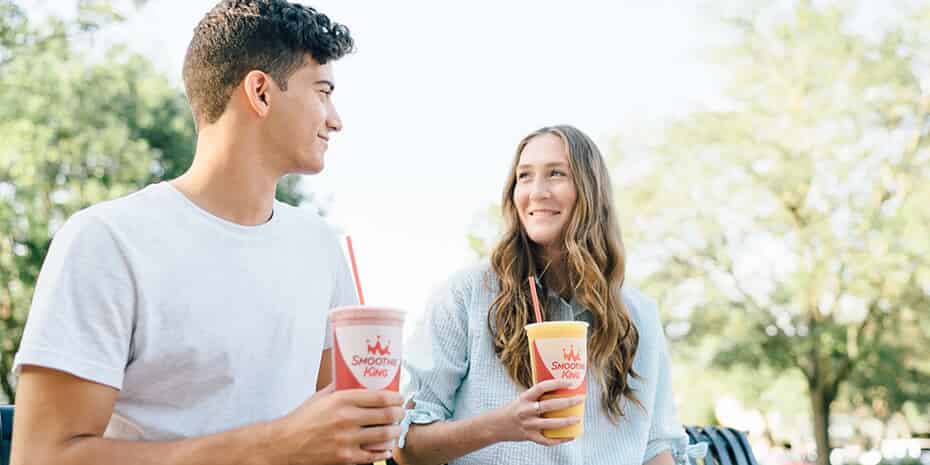 What's next for you two? Do you have any plans to open more Smoothie King locations?
Nathan: Absolutely. We are looking forward to opening our Mount Vernon location next year, and we can't wait to see where the future takes us. We just love the brand. It's our happy place.
Erica: Running a small business and then opening another one during a pandemic… Most people would think we're crazy… (but) if the pandemic can't stop us, nothing can.
Get Started
Looking to join a franchise meant for multi-unit ownership and expansion? Get started by downloading our Smoothie King franchise kit today!