After our double-digit sales growth in 2021, our franchisees are gearing up for an equally as strong 2022. With improved unit economics and a record-setting average unit volume in 2021, they are looking forward to another record-breaking year.
From marketing locally to hiring, managing a strong team, getting their families involved and making a true difference in the lives of our guests, these franchisees know just what it takes to pave the road to success.
Getting Involved in the Community
One of the most important things every good business person knows is how important it is to get involved in the local community. Thuc Tran, an Arkansas-based franchisee, is no stranger to putting himself- and his smoothies- out there.
He has joined his local Chamber of Commerce, passed out smoothie samples at baseball games and has even sponsored two local baseball teams. He's also partnered with schools for spirit nights, other businesses and has donated to nonprofits, for which his Smoothie King location was recognized on a huge banner at a local Sam's Club.
However, Thuc has seen the most success partnering with local gyms, as they share the same mission of helping people achieve healthy and active lifestyles. He regularly drops off Smoothie King coupons so that when someone signs up for a gym membership, they are gifted a free 20-ounce smoothie.
Helping people Rule the Day™ doesn't stop with business partnerships; he even treats his neighbors to some of our delicious Clean Blends at neighborhood potlucks. He looks forward to continuing these efforts and finding even more ways to get involved in the community throughout 2022.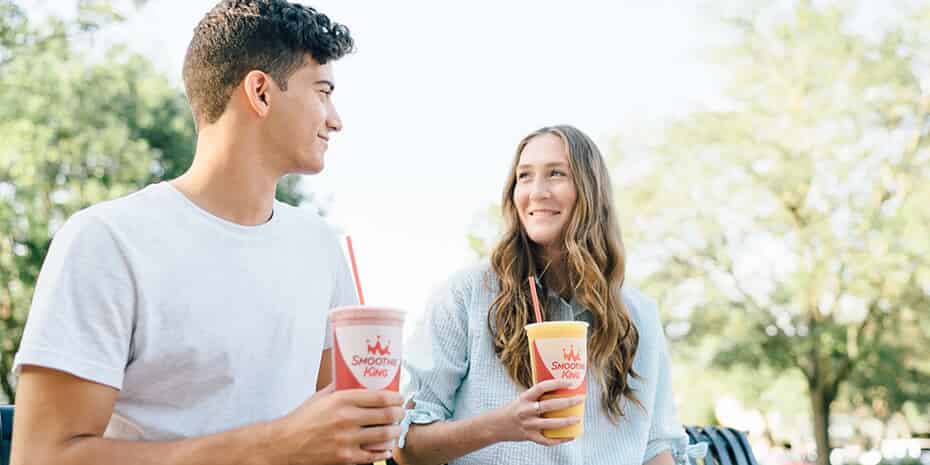 Hiring the Right People
Iyas Abuhasna, a multi-unit Smoothie King franchise owner based in the Chicagoland area, knows just how important guest service is in his business.
"Every time I onboard a new team member, I let them know that guest service is my main focus," Iyas added. "I explain that good guest service will not only bring in more business, but it will help them be better people," he said.
He also educates his team members about how great service drives brand loyalty. Not only are his Smoothie King locations constantly reeling in new customers, but their regular ones keep coming back- whether it be in person or ordering for pickup or delivery.
As he continues to put service at the forefront of his business, he and his team look forward to serving up even more smoothies with a smile this year.
Promoting a Healthy Work Culture
Just like our franchisees work to build healthy communities, they hope to do the same for their workplace. New Jersey-based franchisee Humza Tanvir knows that building a positive work culture goes beyond hiring and training.
For him, one of the best parts of being a Smoothie King franchisee is getting to create jobs in the community. Most of these positions end up being first jobs for teenagers, and he enjoys teaching them valuable skills and preparing them for their future careers.
He even promotes internally, goes above and beyond to help his team members reach their personal goals and works alongside his area manager to keep employees happy and successful.
"It makes me happy to know that even if I can't be there some days, the business keeps running. It doesn't miss a beat even without me there," he said.
Throughout the next few years, he hopes to grow his portfolio by opening more Smoothie King locations in New Jersey and expanding into Pennsylvania.
Turning Entrepreneurship into A Family Affair
Many of our franchisees build a strong team of familiar faces- their own family. When Thuc Tran's wife isn't running the family's nail salons, she is helping him with marketing his Smoothie King location.
She runs their social media accounts while their older son takes on the role of Operations Manager and his younger son and daughter work as team members, floating between his multiple locations to help out.
They will continue to rely on teamwork as they run his four locations and look forward to opening a fifth in the near future.
Serving Up Smoothies with A Purpose
Finally, our franchisees look forward to continuing to help others live healthy and active lives throughout 2022 and beyond. Ohio-based franchisee, avid gym-goer and former bodybuilder Anna Dey loves that she gets to combine her passion for wellness with her passion for entrepreneurship every day.
In fact, she began as a regular Smoothie King guest. Over time, Our Clean Blends inspired her to take the leap into full-time entrepreneurship. Today, not only are they a part of her everyday life, but she gets to share them with others to improve their wellness, overall health and help them Rule the Day™.
Like Anna and all our franchisees, the Smoothie King team has no doubt that 2022 will continue to break records and- more importantly- help guests everywhere achieve their wellness goals.
Will 2022 be your year to join a rapidly-growing QSR franchise that helps others live happy and healthy lives? Contact us today to learn how you can take advantage of this rewarding opportunity!